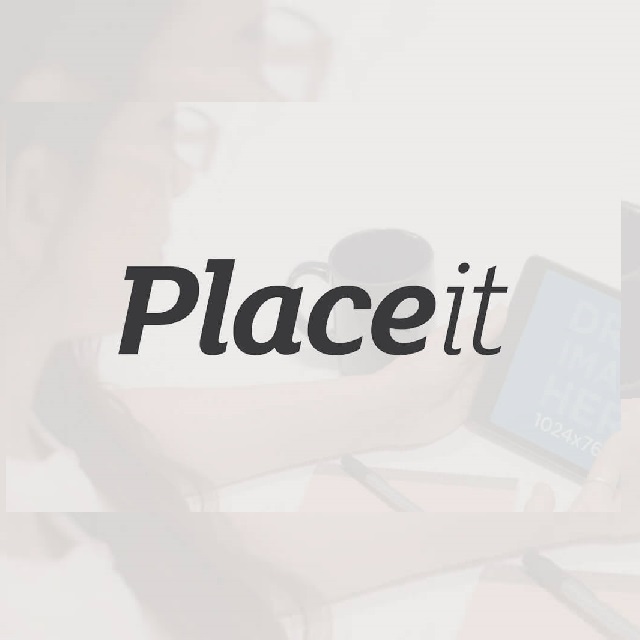 PlaceIt reviews: What Is PlaceIt?
According to the company, Placeit is "your one-stop-shop for mock-ups, logos, design templates, and animated videos." Maybe you sell T-shirts and want a new way to show off your designs in a professional and realistic way. Placeit has thousands of apparel and digital device mockups that take just seconds to make.
Or maybe you need a new logo for your online business. Placeit has you covered with easy-to-use logo makers that can help set your e-commerce store apart from the rest and solidify your brand. Along with apparel and logo designs, they even offer business cards, book covers, flyers, and more with thousands of templates — and more are being added every day.
Placeit maintains that their teams "marry design and technology to create high-quality branding and marketing tools" so anyone can create effective visual assets and products for their brand regardless of technical or artistic skills.
What Exactly Does PlaceIt Have to Offer?
Placeit boasts an ever-growing library of templates to choose from. From these templates, you can design and create:
PlaceIt Logos
Choose from a list of industries, and then browse thousands of logo templates – you're bound to find one that complements your niche!
Logos are crucial for establishing your brand's aesthetic.
So, you need to design something that's innovative, memorable, and relevant to your business- maybe don't create a logo with a deer on it, if you're selling cat food, for example.
Placeit can help you create a fantastic logo in just a few clicks. Its interface is super simple and provides over 8,000 professional-looking logo design templates to choose from.
To create your logo, follow the steps below:
Click on the "Logos" tab on Placeit's website.
Type your brand name into the field under "let's make a logo!"
Select your industry category or search for your niche.
Customize the colors of your logo *tip: be consistent with branding; if your brand has a color scheme, utilize that. Placeit will tailor its logo suggestions based on your color choice.
Now you can tweak the components of your logo: text, font, frame, etc.
When you're happy with the design, hit Save and download.
PlaceIt Design templates
It doesn't really matter what you're designing – t-shirts, flyers, business cards, social media images, etc., you name it, you should be able to find a decent design template on Placeit.
As we've already hinted at, you can use Placeit to design your first t-shirt, business cards, banners, flyers, social media images, and more.
Here's how:
Click on the "Design Templates" tab on Placeit's website.
Select the asset you want to design from Placeit's extensive range.
Then, simply click on the template you like.
Now, you can customize your template design by adding text, changing the font, setting a featured image, and adjusting the frame to meet your specifications.
When you're happy with your final design, press save, and download.
PlaceIt High-Resolution Mock-ups
If you want to create fashion items like t-shirts, hoodies, tank tops, hats, etc. Or things like mugs, tote bags, pillows, phone cases, etc. There are tons of HR mockups to peruse through!
With over 22,000 mockup templates to choose from, Placeit gives you plenty of scope to select a design that's right for you.
You may be wondering, "hang on; what's a mockup?"
If that sounds like you, never fear, a mockup is a pre-set template for a piece of merchandise, for example, a t-shirt. You can then customize it by inserting your own designs, text, images, etc., on it.
To create your own new mockup:
Click on the "mockups" tab located on the top of Placeit's website.
Select the type of mockup design you would like to create. There are lots of options, from tote bags to mugs, to T-shirt mockups and leggings – you name it, Placeit probably has it.
Once you've decided on the type of merchandise you want a mockup for, you can now browse Placeit's vast library of templates and designs.
Once you've selected your template, it's time to customize it by adding your own text and images. If necessary, crop the graphics to meet your needs.
Then when you're happy with your finished mockup, download it with or without a watermark.
PlaceIt Drag & Drop Videomaker
Use Placeit's easy-to-use video maker to create product demos, Instagram stories, social media marketing videos, etc.
Video content is an excellent way of engaging with your audience. There's so much you can do with a quick film. For instance, businesses can promote their latest products, create a viral sensation, introduce themselves to potential customers – just to name a few!
In fact, data suggests that videos are better for capturing people's attention than images alone. Interestingly, social media videos generate as much as 12 times the amount of shares than text or images combined. Not only this, but you're likely to get more visitors to your website using video than company's that don't – 41% more likely actually.
Some believe videos are so useful because they require people to stop and pay attention, whereas, with pictures, it's easier to scroll on by mindlessly.
Therefore, publishing professional-looking and captivating video content could be the key to enhancing your online marketing strategies.
Luckily for you, Placeit offers hundreds of video templates for various types of videos.
Here's how it's done:
Get started by navigating to the Videos section of the site. Choose the type of video you'd like to create (e.g., Instagram Stories, product demos, intro template, etc.)
Browse Placeit's library of video templates and choose one to work with.
Tailor the template for your brand. When you choose your template, you can customize various elements of the video, including the text, colors, images, playback speed, and more. You can also add new video slide if you want.
Download the video. Just like with Placeit's other tools, you'll be given the option to download your creation by buying it outright for $9 or subscribing to Placeit.
PlaceIt Gaming
Brand your gaming channel by creating assets for your Twitch profile – Placeit provides everything you need to get going with this!
Now we've listed the five main areas Placit focuses on, let's review each of these in a little more detail…
Over the last decade, online gaming has exploded in popularity. For some, streaming videos of their gameplay has even become a career… and a lucrative one at that.
Sites like Twitch and Youtube allow people to live-stream as they game to an audience and potentially earn money by doing so. You can even do this from the convenience of your iPhone or iPad. There's a big audience for this kind of content. Twitch, for example, has over 2 million streamers per month, with 9.7 million active daily users. That's an incredible amount of people!
So, if you're a gamer, branding your channel is incredibly important if you want to stand out in the ever-growing crowd of live-streamers. It's no easy thing to do nowadays, so you need to look the part by reflecting a professional yet unique image.
Placeit can help you create fabulous templates to brand your gaming channel, most notably for your logo, assets on Twitch, and merchandise you want to sell.
Here's how to kickstart the creation process:
Click on "Gaming" tab at the top of Placeit's website
Choose the category of templates you want to search: For example, all gaming templates; logos; animated logos; Twitch banners; Twitch overlays; video intros, etc.
Once you've decided the category, browse through their selection and choose the option that best suits you
Customize the template's text, colors, etc. *Tip: designing a logo? Inject a bit of movement into your design by opting for an animated logo.
Then download when you're ready!
PlaceIt Pricing and Discount with Promo, Coupon code
Placeit doesn't really have a free plan, but they do have an area where you can "Play around with all of Placeit's tools and see just how easy it is!" When you're ready to subscribe, here are your options:
Subscription: $19.95 a month or $99.95 a year, you have unlimited access to all of Placeit's mockups, design templates, video templates, and logo makers. There's no minimum.
Single Purchases: Pay for what you download. Each downloaded item has a fee associated with it:
Mockups: $7
Video: $9
Logo: $40
Design template: $3
All in all, these prices aren't bad, whether you choose the single purchase or go with the subscription.
When I started using Placeit in 2017, they were charging $29 per month for the "Casual plan." That plan only allowed you to download 9 images per month. And you had to sign up for at least 3 months.
I'm glad they are offering more affordable plans now. I'm pretty sure that buyout by Envato had something to do with it.
Conclusion
Placeit is a solid logo maker, but it's not for everyone. If you are looking for a fully-customized and totally 100% unique design, look elsewhere. But if you are looking for a beautiful, easy-to-design logo for yourself or your business, Placeit is a great choice. The tool is comprehensive, exhaustive, and makes for a fast turnaround time. It's also an affordable alternative for small businesses that can't afford a pricier private logo designer. You have tons of flexibility in design, and you can get various versions of your logo for multiple purposes. Placeit ranks highly on our list of top logo design makers.