What is AdEspresso?
Adespresso is a Facebook ad management tool. With it you can create several versions of your ad. You can use different images, headlines, text, and URLs. Just like in Facebook ads manager you can preview the ads and choose where you want them to show up – in the sidebar, on mobile, on Instagram or in the newsfeed.
After you add variations, you can choose your targeting. THIS IS SO IMPORTANT. The text, image and targeting make or break your ad campaign. Adespresso automatically creates combinations of your ads and runs them for you. It publishes straight to Facebook.
Then I use the Facebook Ads app to check my ads. I turn off the ones that are expensive and I add budget to the ones that are performing well. So if my ad costs .55 cents a click for women and .33 cents a click for men, I turn off the ad for women and just have it run to show men .It's easier to manage the ads in the app (after they're created) then it is in AdEspresso.
Who Should Get AdEspresso? AdEspresso is for a small to mid-sized business. You can use it to run Facebook ad campaigns for clients or just for your own campaigns. I use it to run ads for my own affiliate marketing business.
AdEspresso Features
AdEspresso by Hootsuite helps users manage social media ads faster and more efficiently, especially when it comes to Facebook Ads. Dealing with marketing and advertising through Facebook can be time-consuming and difficult. AdEspresso works to eliminate that and make the entire process simpler and more effective.
To get the most realistic and effective results, you have to have the ability to create multiple variants for every single aspect of your creative approach, including different demographic targets. This is how you achieve results-driven Facebook Ad campaigns. Granted, most advertising and affiliate software solutions in the market allow you to do that, but the key is having the ability to deal with all the processes in a quick and simple manner.
AdEspresso provides a campaign editor that enables users to create and test multiple ads within minutes, instead of hours. Furthermore, having the ability to come up with new experiments to test can help increase your returns on advertising by up to a hundred percent.
The cloud-based advertising solution also allows for the easy tracking and management of all Facebook Ad campaigns. Users have more control over all their ads with regards to timing, ad placement, and custom audiences, which typically translates to higher conversion rates for the user's brand.
AdEspresso also offers top-quality analytics tools that enable marketing professionals to analyze and optimize their marketing campaigns after publishing. The analytics solution allows you to view only the metrics you actually need for tracking and campaign optimization purposes, instead of wasting time on a multitude of data columns that only add to the confusion.
Speaking of optimizing your Facebook advertising campaigns, AdEspresso by Hootsuite actually does all the analysis for you on all your campaigns. It provides you with daily actionable recommendations, which in turn allow you to obtain better and more effective results.
AdEspresso's PDF report builder allow users to quickly create comprehensive and detailed PDF reports of all their Facebook advertising efforts for customers, colleagues, and stakeholders. The AdEspresso Report Builder can help you create clean and professional-looking PDF reports for your Facebook Ads within minutes.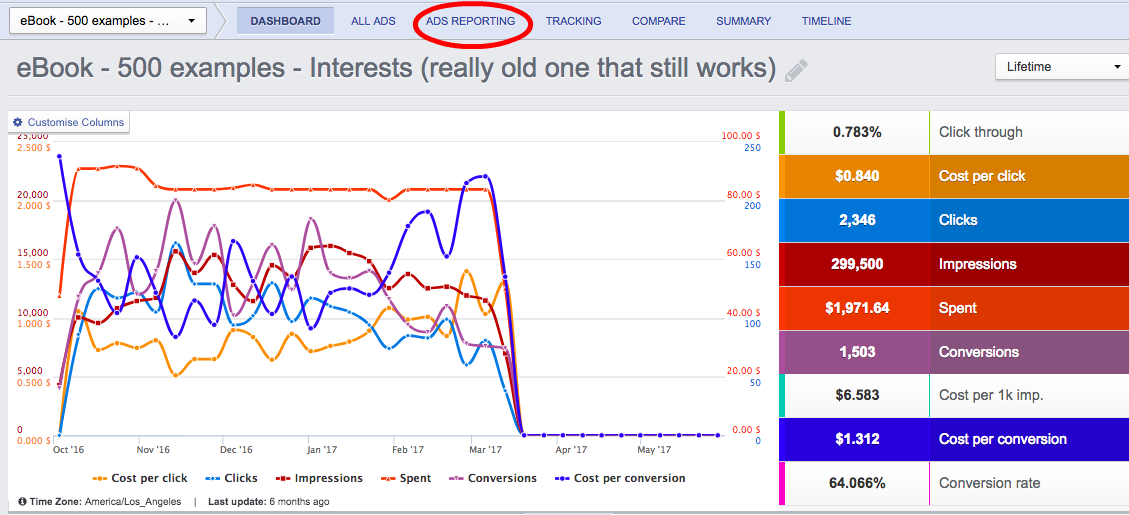 The advertising platform utilizes a drag-and-drop function that allows users to simply drag and drop the various elements they want displayed for each individual campaign. They can fully customize the display to only show the metrics they care about and how the data is being presented. In a few simple steps, your PDF report is ready to download and presented to your customers and/or bosses.
AdEspresso's data synchronization software solution enables users to connect their Facebook Ad account to their existing customer relationship management (CRM) platform and/or email marketing tool. This allows you to keep all your leads, target audiences, and contacts always in sync and up-to-date automatically, instead of consuming the majority of your time focusing on tedious data.
AdEspresso Benefits
AdEspresso by Hootsuite allows you to optimize your Facebook Ads as effortlessly as possible, regardless of your skill level or experience working with software systems, online applications, and tools. The cloud-based advertising and affiliate software solution allows for easy and painless A/B testing.
The platform enables you to create a multitude of variants of your Facebook ads with just a few simple clicks. If you have different target audiences, the ability to create a host of variants allows you to test all versions across multiple target audiences.
AdEspresso has a save function that allows you to save your preferences for audience demographics so you can reuse them on an advertising campaign in the future. You may also store all your media through the cloud so you can avoid uploading the same image, video, or audio file every time you're trying to create Facebook ads for A/B testing.
AdEspresso also offers clean and robust analytics capabilities, which means users can finally stop relying on complex and messy data tables. The customizable dashboards enable marketing professionals to put more emphasis on key metrics in order to identify their most effective and top-performing ads. The analytics tool also allows you to assess Facebook Ads performance fairly accurately, so you don't have to waste time and money on underperforming ads.
Finally, one of the main benefits AdEspresso provides its users is the ability to efficiently and effectively optimize campaigns and take them to the next level.
AdEspresso Plans & Pricing with discount code
Every company's budget is unique and varies greatly from one to the other. While some can afford to spend enormous amounts on their campaigns, others count every penny. Fortunately, there is a package for each of them
AdEspresso Base Plan
This is the cheapest plan at $58 per month. It includes an unlimited number of ads accounts with spending of up to $3000 per month. Yet, as a downside, it does not allow to have more than one user. In spite of this, this package includes all the other basic features. Some of them are scheduling, analytics, a PDF report, and more.
AdEspresso Premium Plan
This is the plan AdEspresso recommends and the one that is most likely to suit a wider audience. It also offers the possibility of having an unlimited number of ads accounts, and the expenditure, in this case, can reach up to $10,000. The good thing is that one can have up to 2 sub-accounts, and also enjoy the essential features for $166 per month.
AdEspresso Elite Plan
This package is for those who have higher requirements. At $333 per month, it allows spending up to a whopping amount of $50,000. Each client can have up to 10 users while using all the basic features the other plans offer, like detailed analytics.________________________________________
AdEspresso Diamond Plan
This is AdEspresso's top plan. It suits the clients with high-end needs. One of its top characteristics is that it supports up to 30 sub-accounts. Customers can spend up to $150,000 monthly on their campaigns. Of course, this does not come cheap. It costs $499 each month to have this package.
Conclusion
AdEspresso is a user-friendly advertising tool that can revolutionize how you approach Facebook Ads. With the power to quickly create multiple versions of a single campaign, coupled with split testing options, marketers can gain valuable insight into their audience and hopefully generate maximum ROI.
Today there are thousands of digital advertising software for brands to automate and optimize their campaigns. Knowing which type of software and the leaders in those categories can only benefit your team. Get the guide that explains it all and details the 9 categories in the advertising stack.
Image: