PowerAdSpy have 7 pricing packages
Free: Get 20 free searches on Facebook, Instagram, Google and YouTube with no restrictions on search filters.
Basic: Unlimited searches on Facebook, but with limited options for search filters. Try it free for $1 then pay $49/mo.
Standard: Unlimited Facebook and Instagram searches, excluding lander properties filters. Try it for $7 for 5 days then $99/mo.
Premium: This is where the software really starts to shine and you'll gain access to unlimited searches and all available filters on Facebook, Instagram, and Youtube. Start with a $7 trial then $149/mo.
Platinum: Everything in the premium plan, including Google network for $249/mo. Trial for $7.
Titanium: This plan unlocks Native content at $299/mo with a $7 trial.
Palladium: The whole enchilada for $349/mo, including GDN. It also has a trial at $7.
With our Poweradspy group buy account, you will get Poweradspy Palladium plan account for just $30 per month.
What is PoweAdSpy Tool?
PowerAdSpy is the most promising FB Ad-Intelligence Spy Tool that is available out there on the market. Poweradspy will easily Spy on your competition's best Facebook ads strategies and then you can simply use them for your own business.
PowerAdSpy Main Features Reviews
To understand the advertising strategy and marketing insights of top companies of the world or in order to understand the advertising of top players in our industry we can learn to filter FaceBook ads by the advertisers using the Poweradspy tool. We have recently shared the pexda review here.
PowerAdSpy Engagement level with the Ad about shares and likes
The ads that show the maximum level of engagement in terms of things like shares, likes, and comments need to be studied to know what is working in the market and what is not.
PowerAdSpy Ad Position
This feature of the Poweradspy tool of filtering ads by their position and knowing their mapping can help us better place our ads concerning our competitors.
PowerAdSpy Call to Action
If we want to understand and acknowledge what call to action (or CTA) will work best for your brand this option by the Poweradspy tool can do wonders for us. The Poweradspy tool will allow you to us to find the best Call To Action for our Ad.
PowerAdSpy Date
Timing plays an important role depending on any shopping is concerned whether it is online or branded stores. It is obvious that more shopping happens on certain weekends, national holidays and during the festival season. Make use of these real-time opportunities, and we can take a look at the strategies of the competitors.
PowerAdSpy Keywords
Their keywords drive internet Searches and internet shop items. It would be essential to see the ads displayed when a particular keyword is searched for. If your competitor is showing a text ad for a specific keyword so we can add image ads instead. If the competitor is putting on an image ad, we can put in fourth video ads and instead since video ads have more engagement than an image ad.
PowerAdSpy Demographics that are related to Age, Gender, Interests, their income
The Poweradspy tool is the one that allows you to understand whether the competitor's target audience is male or female, low-income group or high-income group, etc. This will be in turn, allows business owners to understand their niche.
PowerAdSpy Location for the advertisement
The pattern of communication and the communication channel is individual and depending on the respective country, city and the zone in which the target audience lives. This itself can become our Unique Selling Point (USP).
PowerAdspy Benefits Reviews
With PowerAdspy, you get many benefits for your business including:
Ability to search ads based on domain or niche
Easy filtering of ads on social media platforms
Helps you create and run efficient marketing and advertising strategies
You can spy on the competition by tracking their creatives, ad copies, angles, and more
Use data scraped directly from ads for your campaign and monetize your business
The tool is time-savvy, which means it saves you a lot of time that would otherwise have been wasted in endless research
PowerAdspy is an intelligent tool packed with powerful features that let you find winning ad campaigns from about 6 million ads collected from more than 15 countries.
Pros of PowerAdSpy
Advertisement Placement Analysis
Will have an allowance to a vast database of Facebook Ads
A sneak-peek into the best performing ads
See the engagement level of an ad
Deciding on the niche
Custom Ad search
Choosing the right CTA for your ad PowerAdSpy.
Find an ad with one click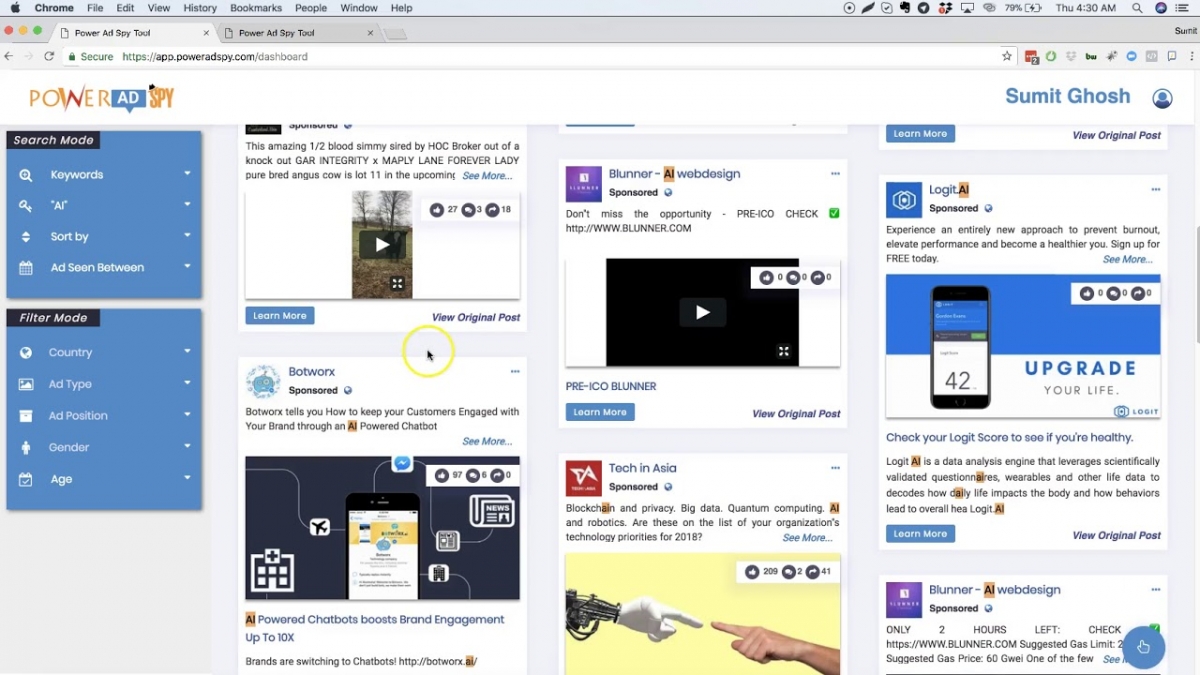 Cons of PowerAdSpy
Good knowledge of marketing is a must
PowerAdspy Pricing and Discount with Promo, Coupon code
PowerAdspy has four different paid monthly packages: Basic $49, Standard $99, Premium $149, and Platinum $249.
A free plan is also available, but offers you up to 20 searches per month. If you want to try the other plans, you'll have to pay $1 for the Basic plan, and $7 for the remaining three paid plans.
The Verdict of PowerAdSpy
PowerAdSpy makes it easy for affiliates and eCommerce advertiser to create winning native campaigns as it helps to discover the most trending products, targeted audience and demographics. Additionally, it displays the gender of the users, marital status, and age groups and winning funnel of any advertiser, allowing to replicate and bank on instantly.
PowerAdSpy is undoubtedly an unbeatable tool for native ads marketers who work across multiple social platforms.