KWFinder Overview
The importance of keyword research in SEO cannot be overstated. Ranking for the right keywords can make or break your website. By researching the keyword demand and trends in your niche, you can find out what terms and phrases you should target and also learn a lot about the kind of visitors you can expect.
So how do you master this important skill in SEO? By using top-notch keyword research tools that can assist you in identifying keyword opportunities to target. And one such tool is KWFinder – a popular SEO tool that allows you to conduct high-level keyword research and helps your website reach its full potential. Over the last few years, KWFinder has quietly grown in popularity and has become the de facto keyword research tool for many SEO professionals.
But does it live up to the hype? That's what we are going to find out in this in-depth review of KWFinder.
In this KWFinder review, we'll examine the tool's various features, its pricing plans, and also evaluate the tool on other parameters like ease of use, customer support, and overall online sentiment around the product.
What is KWFinder?
KWFinder is an intuitive keyword research tool design developed by Mangools. It's a popular alternative to other options on the market, such as Moz and Long Tail Pro, due to its strong focus on simplicity and its ability to help find and evaluate long tail keywords that are easy to rank for.
While KWFinder is Mangools' flagship product, the company has expanded their suite of SEO tools to include SERPWatcher (rank tracker), SERPChecker (Google competitor analyzer), LinkMiner (backlink analyzer), and SiteProfiler (website analyzer).
Who KWFinder is For?
Whether you want to make smarter choices for your business' SEO strategies, to start ranking as one of the top 10 search results for commonly searched keywords, to discover who's already ranking for the keywords you want to target, which keywords have yet to be discovered by your competitors, to understand the advertisement costs surrounding certain keywords and to find out how difficult it may or may not be to rank for your desired keywords, then KWFinder is for you.
They make keyword research easy: simply enter a keyword and use the generated data to start forming effective decisions for your business. If you want to make data-lead decisions about which keywords to pursue that make sense in terms of their relevance to your niche and have an achievable difficulty level for your domain strength, then KWFinder can help you by providing real-time data of SEO search terms and results.
KWFinder Features Reviews
KWFinder Keyword Identification
KWFinder helps you identify the low-cost, high-traffic keywords that will maximize your search ranking improvements per dollar spent. Helpfully, the figures the service provides you with are exact rather than in ranges, as is common with some applications.
KWFinder Competitor Analysis
Use 45 unique SEO metrics to learn what high-authority websites are doing well, what their strong and weak points are, and how your keyword selection compares to theirs. These metrics include domain authority, the number of external backlinks, the number of Facebook shares, visits per month, citation flow/trust flow (which are measures of page influence and reliability), and more.
KWFinder Ranking Improvements
Based on the keywords you use, KWFinder will tell you how much organic traffic potential your site has. You can then benchmark this data against SEO and ranking goals and tweak your approach to iteratively improve the performance of your websites.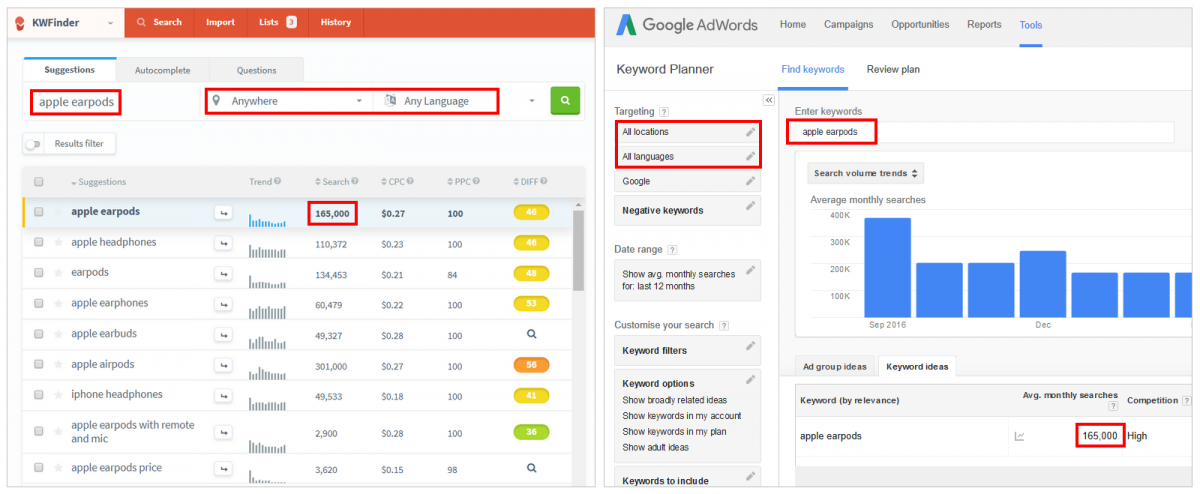 KWFinder Interface and In Use
KWFinder has a pretty comprehensive set of features but it manages to present all of your search and keyword data in a user-friendly interface that even beginners will find easy to use.
Quickly and easily toggle between services such as keyword search and domain search, see where your traffic is coming from, apply filters, differentiate between paid and organic searches, and see details on click-through rates, price per click, and total volumes all on a single, integrated dashboard.
KWFinder Support
The tech team can be reached round the clock via email or live chat. Users who are a bit more hands-on can dive right into the technical documentation provided in the official FAQs and KWFinder knowledgebase. There is also an active YouTube page that posts how-to's and general tutorials that are very thorough and broken down by topic.
For advanced help, such as for API access, you need to contact the tech team via an online form, and KWFinder handles such requests on a case-by-case basis.
The KWFinder Competition
There are many keyword and SEO tools on the market, but one of the best in terms of user satisfaction reviews is SpyFu. Here is how SpyFu compares with KWFinder:
Pros of KWFinder
The user interface is awesome
Accurate search volumes
Best keyword difficulty score
Web based application with no compatibility or speed issues
Cheaper prices when compared to the industry standards
Cons of KWFinder
As this is a keyword research tool, you still may need a competitor analysis tool
Not suitable for heavy-hitters (who do more than 3-4 hours of keyword research daily)
KWFinder's Pricing and Discount with Promo, Coupon code
There are three main pricing options for KWFinder, which also include the use of Mangool's (the parent company of KWFinder) other tools; SERPWatcher (SERPWatcher Review), SERPChecker, LinkMiner, and SiteProfiler. All of these tools work hand-in-hand with one another so having one subscription that gives you access to all tools makes sense.
Mangools also offers a 10-day free trial (with no credit card required) so you can test out their services before you commit to any of the Mangools payment plans outlined below.
KWFinder's Payment Plan Options
Basic ($29.90 USD/month billed annually, $49 USD/month, billed monthly): Includes 100 keyword lookups and 200 keyword suggestions, plus more.
Premium ($39.90 USD/month billed annually, $69 USD, billed monthly): Includes 500 keyword lookups and 700 keyword suggestions, plus more.
Agency ($79.90 USD/month billed annually, $129 USD, billed monthly): Includes 1200 keywords lookups and 700 keyword suggestions, plus more.
Final Verdict
KWFinder is very easy to use. You can use simple features when you start off and can get to the more advanced options once you are ready or once your needs change. Breaking down search results and keyword statistics based on region, ranking, or spend is exceptionally straightforward, and you can get right into using the tool as soon as you start your subscription, which is perhaps its biggest selling point.