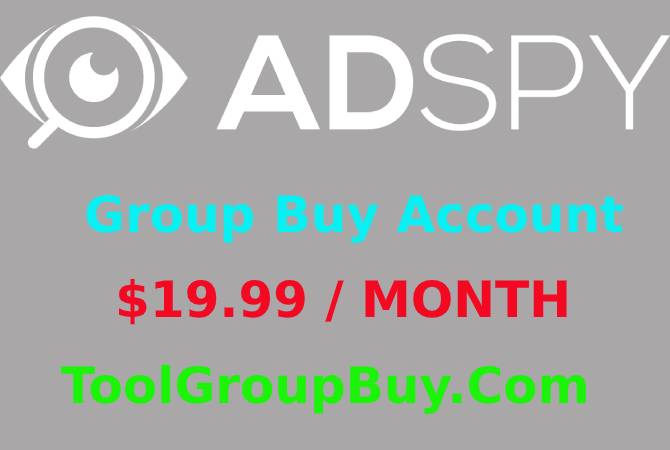 The pricing for adspy account is $149 per month. But with our adspy group buy account, you will get the same adspy account for just $19.99 per month.
AdSpy Reviews
It is a proven fact, that spy tools have incredibly transformed online marketing. To survive the competition, a spy tool is a must-have resource. In the past too, we have reviewed many advertisement spy tools. And today we are here to give you an unbiased review on an extremely powerful spy tool, which is the AdSpy tool.
What is AdSpy?
AdSpy is a powerful Facebook and PPC Spy Tool. PPC by itself is highly dynamic and competitive. Add that to typical Fb Ad Spying and you got a conundrum.
AdSpy boasts the Largest Database of Ads. The numbers nestled in the neighborhood of 74.2 million Ads from 12.7 million advertisers across 198 countries.
In a word, AdSpy helps you to Spy and Copy your competitors' Ad campaigns. You can Track your Keywords, find Lucrative Micro-niches, and Properly Position your Fb and Mobile Ad campaigns.
Perhaps the best way to highlight AdSpy is to relay the best features including the unbelievable deal on our AdSpy Coupon Code.
AdSpy Advanced Features Review
AdSpy Enhanced Basic Search
Adspy has taken search to a new level. Now, you are armed with more than the regular search results. You can set the system to give you more insightful data on your search with its smart filters.
The App will give you data that you never knew you had access to, such as when the ad was last seen, how prospects reacted to it, the long-running ones, etc.
AdSpy Search through Comments
With our comment search, social media users are labeling ads for you. Search through ad comments with the keywords you think are important: monitor competitors' brands, your own brands, or see what's had positive or negative feedback.
Under the Ad Text drop-down field, you will find the Comments search capability. If you have a toy store near a residential area with several schools around, this can be helpful in trying to find out which kind of toys, whether current or up and coming, consumers think are educational for their kids by typing "educational toy". As a toy store owner, you can then try to source out for those toys or at least identical to it and start marketing it whether on social media or in the traditional way in the neighborhood.
AdSpy Accurate Demographics
With the help of its unrivaled network of providers, AdSpy can exactly review an ad that is trying to aim depending on their location, sexual category, and age range. All of your competitors that are targeting a specific region and across markets will never imagine that AdSpy can revile all of them.
AdSpy Calling Affiliates
As affiliates ourselves, we've built the tool that we want to use. You can find ads by the affiliate network, or search for specific affiliates and offers. Have you just been given a great offer by your network? Search via the Offer ID and see how others are promoting it. AdSpy also bypasses cloakers to ensure you have flawless information straight from the landing pages.
If you know the affiliate ID, then input it directly in the Affiliate ID field and you may also choose among the affiliate networks in the Affiliate Network options such as Clickbank, GiddyUp, PeerFly, CrakRevenue, AdCombo and more!
AdSpy Big data
AdSpy simply has the largest pool of data available to you. If a hot product is kicking off and drop shippers need to know, you can be sure that AdSpy knows already.
AdSpy Rapid interface
It's no small task to search through millions of records in seconds. Fast servers, efficient programming, clear interfaces, and well-presented data ensures that nothing can slow your research.
AdSpy Pros Review
Massive database
Lots of useful actionable intelligence
Enhanced search
Affordable
Accounts can be shared without limits. Get Extra 50K views for an additional $50/month.
AdSpy Cons Review
Searches often time-out
Some featured Ads are spammed on Fb
Adspy Pricing and Discount with Promo, Coupon code
For the range of features that it has, it will be totally fair if Adspy is one of the priciest spy tools in the market. However, it isn't.
With as little as $149 per month, you will have the key to getting inside your competitor's head, plus all the other juicy features that come with Adspy.
When you first sign up, you will be given free credits that you can use to test if the tool is good for you.
Be careful not to use up these free trial credits as most of it will be used as you search and scroll through the results.
Final Verdict
In the nutshell, we at Amritsar Digital Academy would like to make you learn that AdSpy is the best Ad Spying tool we have come across till date besides other great native ads spy tool, especially if you are an affiliate marketer. It gives you all the essential insights that one requires to take the e-commerce business to the next level.
However, if you are planning to register with AdSpy tool and wish to run a trial then you can get that done even without subscribing for its paid plan. Just opt for the free ad credits as mentioned above and watch the ads by scrolling down. And to watch only the relevant ads, all you have to do is just adjust your search term in spite of continuous scrolling.